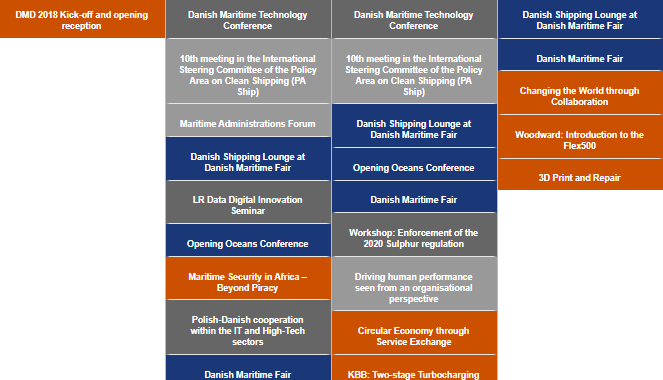 Join Danish Maritime Days 2020 – Event has been postponed
This event has been postponed.
Be a part of DMD on the 28th and 29th October 2020 in Copenhagen.
It is now time to get to work and create your events under the umbrella DMD 2020. Several maritime actors have already announced their activities. This time around the theme for DMD is Sustainable shipping in times of change.
Danish Maritime Days is an open platform. All stakeholders in the industry from around the world are invited to plan events as part of Danish Maritime Days 2020 and thus take advantage of the synergies that arise from participating in this large platform of independent, international maritime events in Copenhagen.
We hope you will join the platform and take the lead on planning your own event(s) during the two days. The secretariat at Danish Shipping is ready to help you with guidance and assistance in finding the right partners to make your event(s) even better.
The event calendar on danishmaritimedays.com will soon be updated with events for DMD 2020, but for now be inspired for events, subjects and activities to DMD 2020 from the event calendar from DMD 2018.
Contact us on: info@danishmaritimedays.com